This is part of a series on a computer that I am building. For links to all of the articles in the series, click here.
NZXT Phantom (White).
The first thing I noticed when I got home was the particularly large box awaiting in the corner of my living room. Although I failed to measure it with any sort of scientific rigour, off the top of my head, the box easily came to my waist or perhaps even higher.
That by my standards is quite large for a box containing a computer case. Despite the reviews, I failed to take into account the physical measurements of the case. Once unpacked, it is huge!
On the plus side though, the case is very beautifully crafted. It may not be to everyone's liking, but it reminds me of a clone storm trooper from the Star Wars franchise. It is a full tower, made of sturdy steel, and has been designed with the aid of a professional case modder. The size of the case easily lends itself to a computer builder, as it gives plenty of room for maneuverability and placing system components.
Here are some basic specifications:
Type: Full ATX tower
Material: Steel/plastic
Dimensions: 22.2cm depth, 62.3cm high and 54cm wide
Cooling: 7 fans (4 included)
Expansion slots: 7
Drive bays: 5 CD/DVD drive bays, 7 internal bays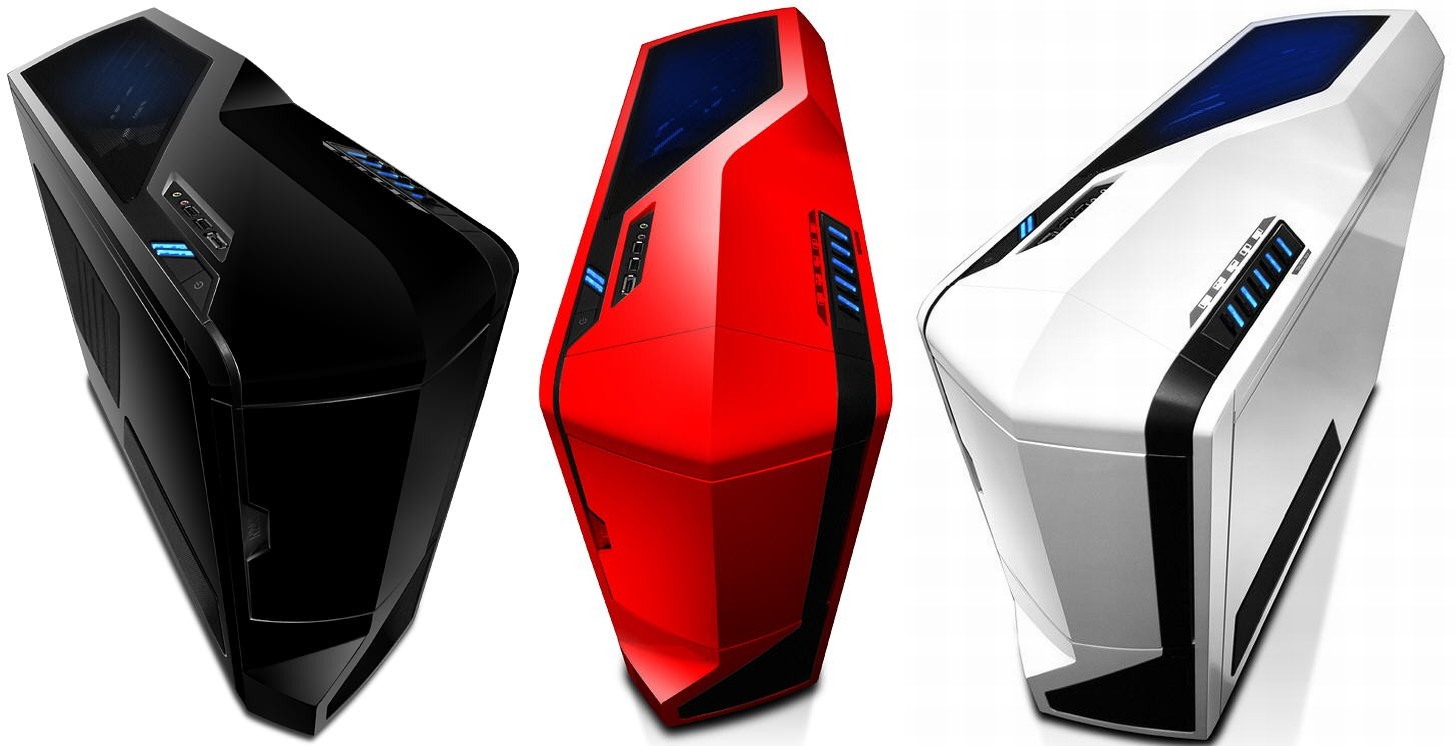 The Phantom comes in 3 colours, but other tweaked versions are available online
As per mentioned above, it is a remarkably large case, with plenty of slots for anything and everything you might want to add to it. I cannot see a scenario whereby my computer would need 7 hard drive bays or 5 DVD Rom drives. Perhaps a CD/DVD writer combo and a bluray drive, but 5 drives?
The 7 expansion slots on the back are a welcome addition though for people looking to do some SLI or crossfire configuration on their graphics cards. The large size and weight of the fully constructed case makes it discordant, if your objectives are to carry it around to LAN parties.
In terms of air-flow the case is brilliant as it comes with 4 fans and has space for 3 more, for a total of 7 fans. 2 large ones (192mm) on the top of the case, 2 small (120mm) at the side, and one on the front, back and bottom each. Once connected very fan also comes with a airflow speed control dial on the top of the case, which lights up in a lovely blue hue. However, I find that the hum of even the 4 default fans are quite loud even on the lowest speed. I cannot fathom what this would sound like with all 7 fans on at the highest setting.This is not a computer to leave running at night processing background tasks if you have trouble sleeping like I do.
The case also has a button on the back to control whether LED lights are enabled or disabled. This is handy at LAN party's when you want to show off your case a bit, or when you need to keep the PC running at night but don't want bright lights to distract your sleep. However, as mentioned before, the large size/weight and loud fans already hinder both of those situations.
The large size of the case lends itself to several nice features such as a very nice cable tidy system and the ability to add plenty of water cooling configurations to the system and lots of additional extra's like SSD's, hard drives and optical drives. Plus there is a large modding community ready to share and review lots of mods to keep the enthusiast happy.
Overall, the design of the case is absolutely stunning and the level of care taken in building the case is a showing of truly masterful craftsmanship. If there was a mid-sized case like this one, it would have been perfect for my needs.
Update: So after purchasing this and building my computer, it turns out that NZXT have just released a new Phantom Case, the Phantom 410 is a mid tower phantom lookalike! Why couldn't they release this 2 months ago? Isnt that always the way?